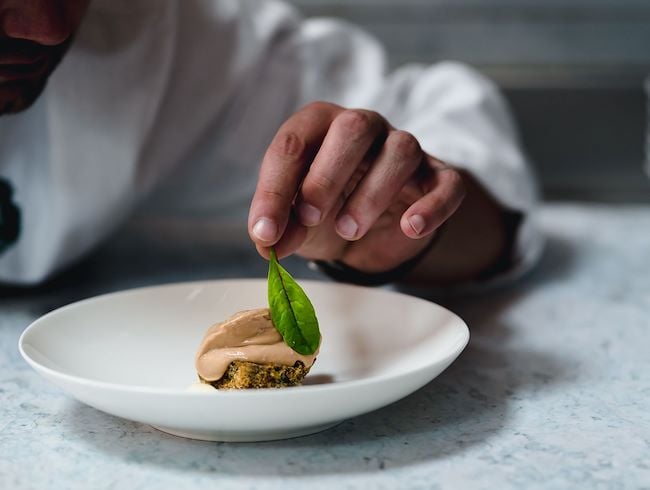 "Mild cooks" 2022
Exquisite creations by Daniel Mild & team.

Culinary creations accompanied by musical ones. This dining experience includes six exclusively coordinated courses including alcoholic and non-alcoholic drinks. Starts at 06:30 pm
6-COURSE MENU | € 139.00 - 149.00 PER PERSON
incl. cover, aperitif, wine and beverage service, coffee; excl. bar drinks
23rd of March | Mild cooks"Haute Cuisine francais avec Moët & Chandon"
11th of May | Mild cooks "asapargus and m(w)ild herbs"
5th of October | Mild cooks"M(W)ild fowl"
16th of November | Mild cooks"finest truffles"
Reservations are requested at +43 662 80 84 861 or at events.goldenerhirsch@luxurycollection.com
*Menus on the 23rd of March and 16th of November are offered for € 146.00 p.p. Cancellation free of charge up to 24 hours before the event, less than 24 hours 100% will be charged.

Mild cooks M(W)ild fowl
5th OF OCTOBER 2022
On October 5th award winning chef Daniel Mild will conjure up nature's culinary treasures on the theme of "Mild cooks - M(W)ild fowl" and showcase the diversity of wild fowl and their culinary traditions. Poultry is not by chance considered light and digestible - look forward to pleasurable experiences of pigeon with red cabbage strudel, a duet of quail, pheasant combined with autumnal pumpkin vegetables, and much more.
The Kolkmann Winery accompanies the pleasure menu with its exquisite drops of wines.
Musical entertainment is provided during a brilliant six-course menu and promises a pleasant and unforgettable evening.
6-COURSE MENU | € 139.00 PER PERSON
incl. cover, aperitif, wine and beverage service, coffee; excl. bar drinks
Reservations at events.goldenerhirsch@luxurycollection.com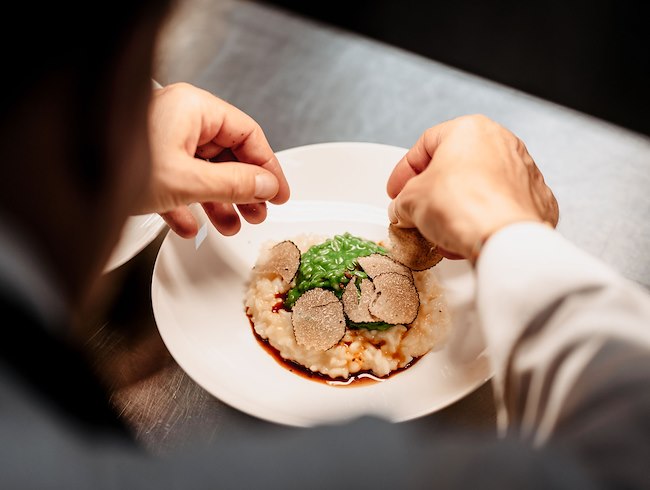 Mild cooks the most delicate truffle
16th OF NOVEMBER 2022
November 16 will be a celebration for truffle lovers when the Goldener Hirsch restaurant invites you to enjoy the most delicate truffles and exquisite wines from the Johannes Reinisch winery. On this occasion, gourmets can discover how great the aromatic noble tuber in different versions harmonizes with exceptional special wines. Daniel Mild, the head chef, and this team serve the guests salmon trout with truffled potato waffles, caviar, truffle dumplings, and homemade truffle ravioli.
Musical delights round off a memorable evening in the cozy atmosphere of the Goldener Hirsch restaurant.
6-COURSE MENU | € 149.00 PER PERSON
incl. cover, aperitif, wine and beverage service, coffee; excl. bar drinks
Reservations at events.goldenerhirsch@luxurycollection.com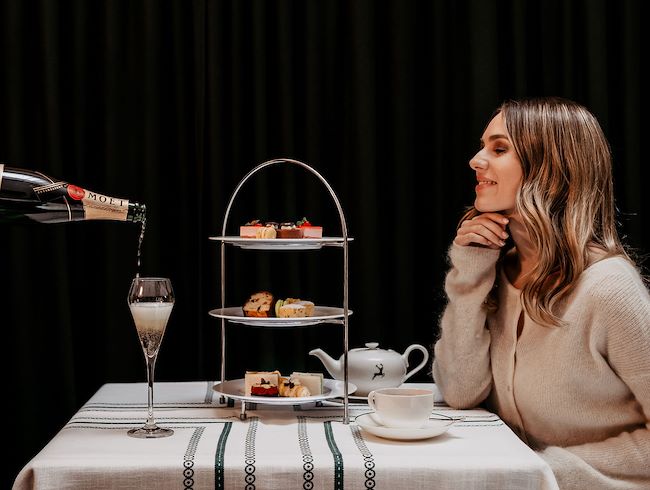 Afternoon Tea
Enjoy a relaxing afternoon in our hotel bar and treat yourself to a delightful afternoon tea.

We have discovered British afternoon tea for ourselves and celebrate this tradition with sweet and savory delicacies accompanied by a pot of tea or a sparkling glass of champagne.
Homemade petit fours fresh from our patisserie. Tempt your palate with beef tartare with truffle mayonnaise and tramezzini, macaroons, chocolate mousse tartlets and many other delicacies.
Price per person including 1 pot of Ronnefeldt tea € 21.00
Price per person including 1 glass of champagne € 29.00
Friday to Sunday, 3:00 p.m. to 6:00 p.m. at our hotel bar, from 4th of March 2022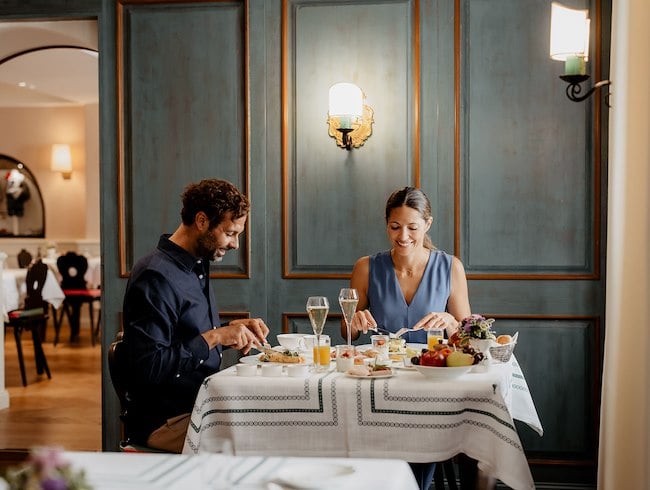 Breakfast in grand ambience
What better way to start your day than with an extended and varied breakfast in a unique atmosphere?
Enjoy a rich selection of fresh and homemade delicacies in our Rosa Salon. We will spoil you with a varied breakfast buffet as well as an à la carte menu that will leave nothing to be desired. Discover unique dishes from egg specialties to all kinds of fresh fruit creations, various granola and oatmeal creations, as well as coffees and teas. We attach great importance to the fact that our products are seasonal and come from regional producers.
Price per person € 45
Breakfast from 7:00 a.m. to 11:00 a.m.
We are also happy to welcome outside guests for breakfast with advance reservations at +43 662 80 84 861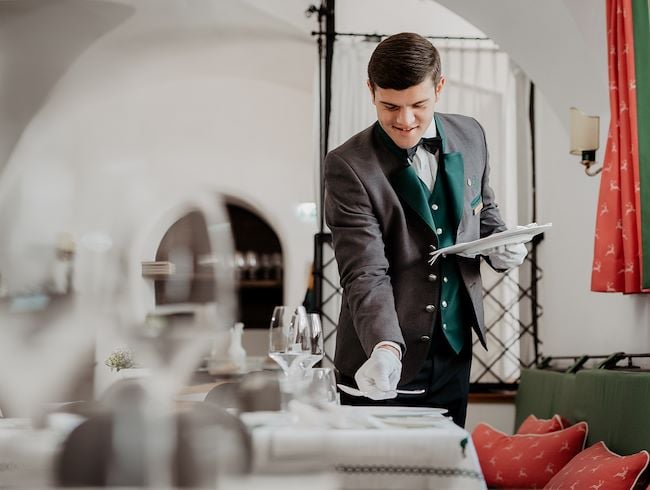 Dreamlike celebrations
At this fantastic location, in the middle of the old town of Salzburg, the Restaurant Goldener Hirsch is particularly suited for exclusive celebrations.
The restaurant Goldener Hirsch and the Hunting Salon offer you sufficient space for your celebrations for up to 110 people. The incomparable romance of the historic hotel provides a wonderful ambience, which is the perfect backdrop for an unforgettable event.

Please contact us for further information and reservations
at +43 (0) 662 / 80 84 884 or at events.goldenerhirsch@luxurycollection.com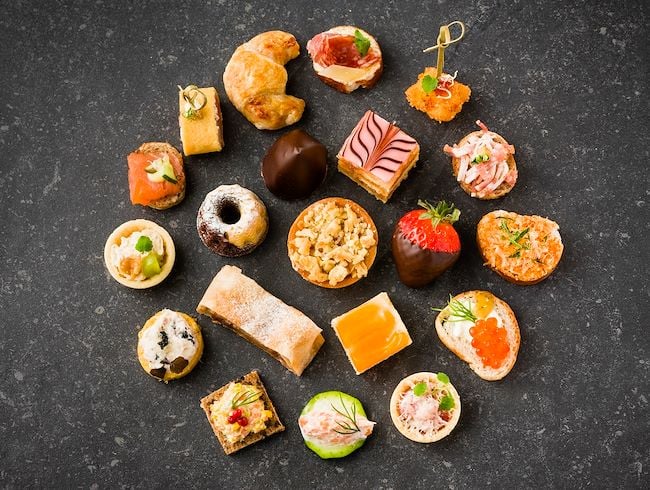 Goldener Hirsch Catering
The Goldener Hirsch Hotel is considered to be the inventor of catering outside the hotel, as the first provider of such a service in Austria.
Its broad range of offers include cocktail receptions, buffets, banquets and catering for weddings and many other kinds of events in Salzburg, as well as receptions during the intervals of performances at the Salzburg Festival Halls. It has distinguished itself through more than 600 years of history and a love of tradition. Genuine sterling silver cutlery embossed with the hotel's stag logo, original table linens also embellished with a stag design as well as the hotel's own porcelain crockery, are sure to make any event a magical experience. Our experienced event team would be happy to take care of any special occasions at the Hotel as well as at your dream location.
Please contact us for further information and reservations
at +43 (0) 662 / 80 84 884 or at events.goldenerhirsch@luxurycollection.com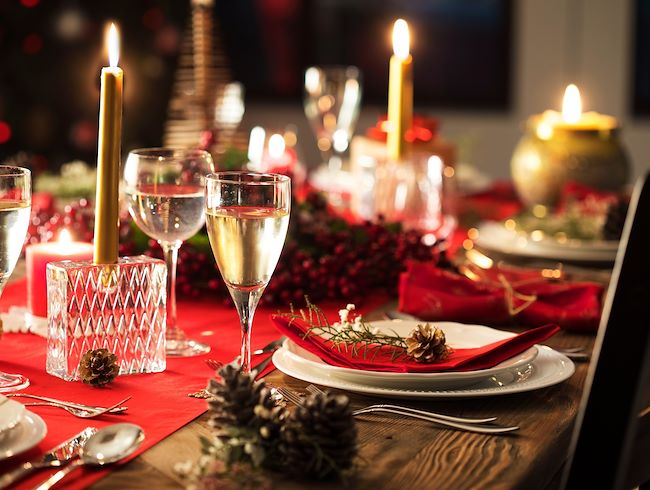 Christmas Eve
24th of December 2022

4-COURSE-MENU | € 129 PER PERSON
We serve the menu from 7:00 pm, the menu includes cover charge and amuse-bouche
Reservations at +43 (0) 662 80 84 884, events.goldenerhirsch@luxurycollection.com

Dresscode: Informal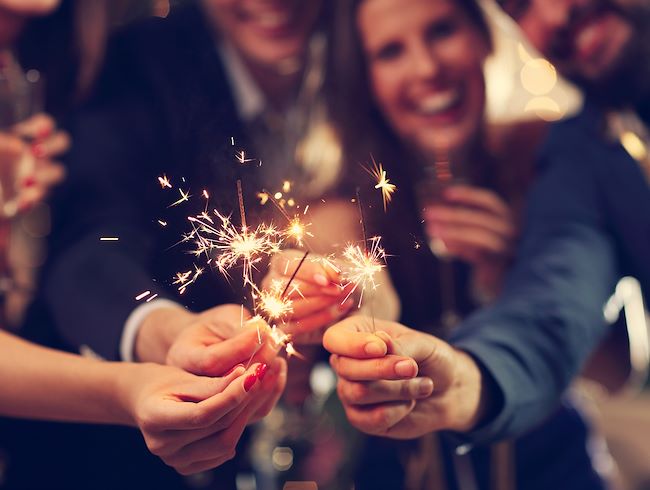 New Year's Eve
31st of December 2022

6-COURSE-MENU | € 189 PER PERSON
We serve the menu from 6.30 p.m.
The menu includes 1 glass of Champagne and cover charge
Reservations at +43 (0) 662 80 84 861 or at events.goldenerhirsch@luxurycollection.com

Dresscode: Informal